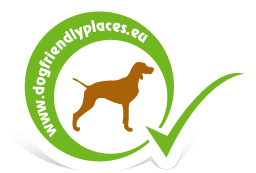 Accommodations - Hotel Villa Natura
Further data
Town: Zalakaros
Address: Csobogó köz 066/7/A
Phone number: +36 (70) 631-5554
Email:
Facebook: http://www.facebook.com/HotelVillaNatura
Size of dogs allowed by us:
Number of rooms:
Maximum numbers of dogs per room: 4
Fenced dog run: yes
We take Szép Cards: yes
Written introduction
Meet the perfect recipe for rest and relaxation in our hotel, which is synonymous with "green wellness" concept! What is it? Hotel Villa Natura - Zalakaros otherwise, wellness otherwise.
Imagine a hotel in beautiful natural surroundings, green forests, surrounded by hills, with a two-hectare natural pond in the middle, built walking paths ... Imagine a hotel with wonderful view, lake-view Mediterranean terrace, a restaurant, a spa, cozy décor, a charging real atmosphere. And imagine even more: the hotel is just 1 minute – less than 1 kilometer away - from Zalakaros and across Europe well known Zalakaros Thermal Spa, Adventure and water park!
Pet-friendly spa hotel
In Hotel Villa Natur, the dog is man! Our pet-friendly, dog-friendly hotel is suitable for huge spaces for walks, dog-friendly rooms and a real dog and owner package!
Go swimming, canoeing, do archery, biking, trekking, enjoy the water, the sauna, eat and jump in the hot tub at us!





Map
[View map large sizes]