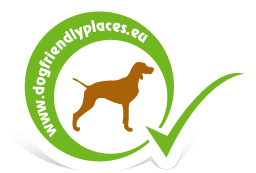 Be Dog-Friendly
Quick Search

Accommodations - Camping Terme Catez
It is the ideal place for those who are looking for wellness, relaxation and amusement. Inside the campsite you will find a thermal resort with 12,000 square metres of water surface, with several swimming pools of different shapes, slides, water attractions, saunas, Jacuzzis and a solarium.
Further data
Town: Čatež ob Savi
Address: Topliška cesta 35
Phone number: +36 (1) 290-4716
E-mail:
Size of dogs allowed by us:
Maximum numbers of dogs: 1
Dogs surcharge per night: 5 EUR
Brezice is about 4 km away and Mokrice about 9 km. Zagreb is only 30 km away
Two thermal parks: the outdoor resort Summer Thermal Riviera with its 10,000m₂ of thermal water, many water features, swimming pools for both children and adults, toboggans, pirate island, lazy river, wave pools and Jacuzzis and the Winter Thermal Riviera, with 2,300m₂ of thermal water surface, indoor and outdoor heated swimming pools for children and adults, slides and several water features. Parasols and sun loungers are available at an extra charge at the Summer Thermal Riviera and free at the Winter Thermal Riviera. Summer Thermal Riviera is open from the beginning of May to mid-October and the Winter Thermal Riviera is open all year around.
Mini club and activities for children and adults are available all year around. 5-a-side football, beach volleyball, basketball, mini-golf (depending on the season) bowls, tennis courts, table tennis, badminton, squash, bowling all year round are available on-site.
There is a grill restaurant, a fast-food pizzeria, a snack bar and a pub. There is a pastry shop that sells local cakes and cookies and an ice cream parlour
A supermarket (with gluten free products available) can be found on-site along with a greengrocers, a newsagents, a tobacconist and a souvenir shop. There is also a clothes shops, a sport equipment shop and a pharmacy.
There is a cashpoint, internet point, Wi-Fi, a games room, and a launderette. There is a spa and wellness centre and a car wash.
Upon arrival, Happy Camp customers are given a pass to enter the thermal parks free of charge (a deposit of 50 € per mobile home is required). This pass allows entrance to the Winter Thermal Park for up to 3 hours per day or, as an alternative, two entrances per day (with no time limit) to the Summer Thermal Riviera.






Images uploaded by users

Map
[View map large sizes]