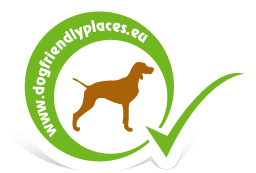 Be Dog-Friendly
Quick Search

Accommodations - Camping Village San Francesco
It is ideally located directly on the lake, between the enchanting town of Sirmione with its two thermal spas famous throughout Europe, and the lively town of Desenzano. This campsite is shaded by tall trees and is equipped with all the modern comforts, including sports facilities and a splendid swimming pool with three lagoons, Jacuzzi and water attractions
Further data
Town: Desenzano
Phone number: +36 (1) 290-4716
E-mail:
Size of dogs allowed by us:
Maximum numbers of dogs: 1
Dogs surcharge per night: 5 EUR
4km away for the town centre of Sirmione.
A free grassy and pebbly beach is accessed directly from the campsite
A swimming pool for both adults and children has three lagoons with different depths (0.60m, 1.10m and 1.40m deep). The pool is open from the 22th April until 18th September and swimming caps are compulsory.
Mini club and wide range of activities for adults is available from the 13th June until the 11th September (dates subject to variations, animation for children at Ascension and Pentecost). There is a playground, 5-a-side football, volleyball, basketball, table tennis. Other activities available at an extra cost include: tennis court, a games room, buoy, boat, pedalo and canoe hire. Mini golf is 3km away and a golf course is 10km away.
There is a restaurant/pizzeria, a take-away, a bar and an ice-cream parlour
The campsite has a supermarket, a newsagents, a tobacconist, a bazaar and a souvenir shop.
Additional facilities include a launderette, Wi-Fi, a games room and a car wash. There is a boat ramp, buoys and a boat mooring pier. There is a doctor (in low season on request and in high season only on stated days).