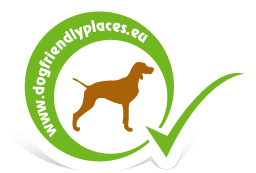 Be Dog-Friendly
Quick Search

Accommodations - Dráva Hotel Thermal Resort ****
Our Hotel is located in Harkány (South-West of Hungary, near the Hungarian-Croatian border). The city is situated 200 km from Budapest, 25 km from Pécs, 5km from Duna-Dráva National Park and 250 metres from Thermal Bath Center.
Locally, Harkány has medicinal healing water which is unique in Europe. But you can also find at hand other pleasant target places of tourist like the fantastic City of Pécs and the world famous winery of Villány.
Further data
Town: Harkány
Address: Bartók Béla utca 1
Phone number: +36 (72) 580-980
E-mail:
Link: http://dravahotel.hu/
Facebook: https://www.facebook.com/dravahotel/
Number of stars: 4
Number of rooms: 88, from dog friendly 88
Size of dogs allowed by us:
Dogs surcharge per night: 5.000 HUF
Dogs allowed in the restaurant: no
The dog can go to the furniture: yes
Firework free: no
Feeding - drinking bowl: yes
Dog bed: yes
Dog towel: no
Dog Waste disposal bags: yes
Can be purchased with dog food: yes
Dog walking service: no
Dog boarding: yes
Veterinarian nearby: yes
Dog beach nearby: no
Chip reader: no
Dráva Hotel Thermal Resort****'s partner is Termál Kemping Apartmanházak, which situated on 5.4 hectares, old beautiful trees area. Both of them offer perfect places for family occasions, corporate events, active and passive leisure and relaxation.
So, these two facilities combine hotel and camping services of high quality. So, these premium accommodations consist of hotel rooms, family apartments and suits as well as bungalows, caravan-, tent places and youth hostels, too.
In addition the quiet and harmful environment ensures total relaxation to our guests. We recommend some exciting indoor and outdoor programs for families, friends and colleagues.
Our Event Planning Division organizes excursions, corporate events, and team-building trainings, cultural and vinous programs at a high level, with guidance on request.
In region we can offer some opportunities for guests with dogs.
Thermal Bath of Harkány with 8000 m² medicinal and swimming water surface area is really close to us. Our Guests can enjoy every day the medical water's positive effects. Moreover our hotel provides for the guests holistic psoriasis cures.





Map
[View map large sizes]