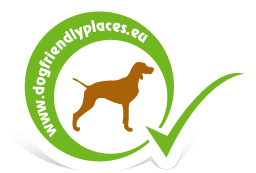 Be Dog-Friendly
Quick Search

Accommodations - Hotel Platán**
Our hotel, just a 2-minute walk from the shores of Lake Balaton, welcomes guests looking for rest and relaxation with 16 rooms, each with its own balcony. The hotel has an enclosed car park, which is free to use for guests.
Hotel Platán also has a large garden with a beach volleyball court and a small playground, an outdoor swimming pool with deck chairs, in order to provide our guests with a pleasant time.
Further data
Town: Zamárdi
Address: Damjanich utca 2
E-mail:
Size of dogs allowed by us:
Maximum numbers of dogs per room: -
Dogs surcharge per night: 1.200 HUF
Dogs allowed in the restaurant: yes
The dog can go to the furniture: yes
Firework free: yes
Feeding - drinking bowl: no
Dog bed: no
Dog towel: no
Dog Waste disposal bags: no
Can be purchased with dog food: no
Dog walking service: no
Dog boarding: no
Veterinarian nearby: no
Dog beach nearby: no
Chip reader: no
Our hotel has 16 ensuite rooms. All our rooms have satellite TV and a small fridge, as well as a covered balcony. Each balcony has garden furniture for the use of our guests.
The price of the room includes breakfast in our atmospheric restaurant, which has a garden and a street front patio.






Map
[View map large sizes]