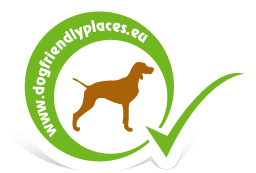 Be Dog-Friendly
Quick Search

Accommodations - Szent Orbán Restaurant and B&B
The St. Orbán B&B and Wine Bar - Restaurant welcomes you with your four-legged , well-behaved pet as visitors. This is the perfect place to relax not just with your family but also with your pet as we are specialized for guests with dogs .
Further data
Town: Zalakaros
Address: Szent Orbán u. 12.
Phone number: +36 (30) 560-3476
E-mail:
Link: http://szentorban.com/
Facebook: https://www.facebook.com/szentorban/
Size of dogs allowed by us:
Maximum numbers of dogs per room: 2
Dogs surcharge per night: 1000 HUF
Dogs allowed in the restaurant: yes
The dog can go to the furniture: yes
Firework free: yes
Feeding - drinking bowl: yes
Dog bed: yes
Dog towel: yes
Dog Waste disposal bags: yes
Can be purchased with dog food: no
Dog walking service: no
Dog boarding: no
Veterinarian nearby: yes
Dog beach nearby: yes
Chip reader: yes
We take Szép kártya: yes
Written introduction
Being a dog-friendly bed and breakfast we have place for the family dog as well and provide extra services. Some of our apartments have been designed in a dog-friendly way for 2 or 4 persons.
The ground-floor accommodation units that can be found here, provide the guests direct access to the garden with enclosed patio. One or two pets with their owners can relax in the comfortably furnished apartments or in the covered pet bed with indoor railing and small door, on a closed spacious terrace (like a kennel). We can provide outdoor boxing to those puppy who are at home not accustomed to the flat / house rest.
The apartment is nicely furnished with beautiful, clean, does not seem to have been there ever a dog. The apartment has parquet floors and tiles, making the floor easy to clean. Not just small dogs, but full-bodied relatives can comfortably fit in here.
The St. Orbán B&B and Wine Bar - Restaurant is located in an idyllic surroundings, it is a real dog's paradise: the guest houses are located on the edge of the forest with huge green areas and the surrounding forests and sunny glades, meadows, making it the ideal place for visitors coming with dog. It is crucial for dogs to walk, move, play: here you can have this huge open space. The dog-friendly neighbourhood is awaiting to be discovered, many wonderful places to visit and routes are specifically designed for dog hikes for those two- and four-legged guests who like to actively relax, with off leash options to take your dog.
The large garden provides enough space as well to run happily with the owner. After a pleasant walk the owners can refresh themselves and not just pet owners can feel comfortable. The owners of the B&B are dog friendly, they too have their own dog, so they love to pet them! The dogs may come everywhere on the land of the guesthouse even in the restaurant. Here the waiters always bring a small bowl of water for your dog, without being asked and of course free of charge.
There is a reliable vet and pet groomer as well nearby.




Images uploaded by users




Map
[View map large sizes]