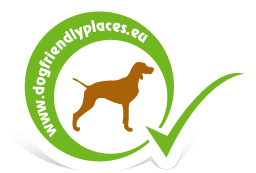 Be Dog-Friendly
Quick Search

Dog friendly places - Castle Siklós
In the past thousand years Siklós and Castle Siklós was a place of great significance. At the southern foot of Villány Mountains situated on a small hill, it is one of the prominent historic sights. Can be visited throughout the year, it has colorful programs and events.
Further data
City: Siklós
Address: Vajda János tér 8.
Phone: +36 (72) 579-090
E-mail:
Link: http://www.siklosivar.hu
Size of dogs allowed by us:
The Siklós Castle is one of the most important and most impressive historic buildings, and one of the most historic landmarks in Southern Baranya region. Its architectural features are unique to the region. The Gothic chapel is one of the finest in the country as well as the recently discovered praying chamber. During the last renovation a painful painted statue of Christ has been discovered, which must have decorated the 15th century chapel and it is also a rarity in our country. The high medieval walls running around the imposing castle and the Kanizsai Dorothy Rose Garden which is located within are all fascinate our guests. The museum exhibits are varied and cover a number of topics so that all our guests will find a landmark to be interested by.
Opening hours:
Monday: 09:30 - 17:00
Tuesday: 09:30 - 17:00
Wednesday: 09:30 - 17:00
Thursday: 09:30 - 17:00
Friday: 09:30 - 17:00
Saturday: 09:30 - 17:00
Sunday: 09:30 - 17:00






Map
[View map large sizes]