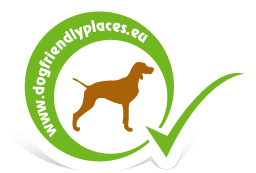 Be Dog-Friendly
Quick Search

Dog friendly places - MNM VÉRTESSZŐLŐS ARCHAEOLOGICAL EXHIBITION PLACE
The human settlers revealed in Vértesszőlős is Hungary's oldest archaeological ensemble, which is due to the special conditions of conservation provides a uniquely complete picture of prehistoric everyday life in Europe.
Further data
City: Vértesszőlős
Address: Vértes László park 1.
Phone: 06 (20) 37-65-804
E-mail:
Vertesszőlős is a small village at the foot of the Gerecse Mountains. At the border led by the archaeologist László Vértes in 1963-68, one of the oldest, hundreds of thousands of years old, prehistoric site in Europe has been discovered.
During the excavation the nape-bones of a prehistoric man, named Samuel has been discovered by an archeologist, as well as the tooth fragments of a 6-7-year-old child. The hardening of the lime sludge retained the footprints of animals that once lived here (ancient horses, aurochs, deer, rhinoceroses).
What has been uncovered from the life from hundreds of thousand years ago is represented by the National Museum exhibition in the living place of the prehistoric man, at the premises of the old quarry to the visitors.
The outdoor demonstration area is pleasant for walk and leisure.
For families with children the booklet "In the footsteps of Samuel" offers an exciting discovery.



Map
[View map large sizes]