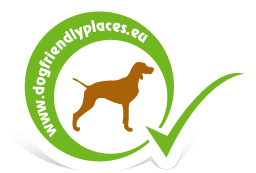 Be Dog-Friendly
Quick Search

Dog friendly places - Óbuda Museum
The country's first dog friendly museum since August 2014, offers entrance to visitors arriving with dogs as well.
Further data
City: Budapest
Address: Fő tér 1.
Phone: +36 (1) 250-1020
E-mail:
The Óbuda Museum is the scene of traditions and modernity as well, the guardian of local culture with modern museological tools. The open museum offers a meeting point for several generations in space and time, it is the site of fun, formal and informal learning, it keeps a living link with the population of Óbuda and the visitors through its collections and programs. As part of our museum there is the Goldberger textile collection to represent the history of the Goldberger family and factory founded by them.
You can find the Óbuda Museum in Budapest at Fő street 1., while the Goldberger Textile Collection can be viewed in Lajos Street 136-138. (www.textilmuzeum.hu)

Opening hours:
Tue- Sun 10: 00-18: 00
Mon: closed




Map
[View map large sizes]