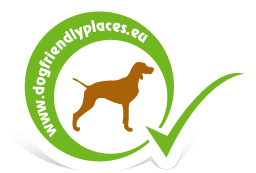 Be Dog-Friendly
Quick Search

Accommodations - Apartman Hotel
The Apartment Hotel, a complex of 4 buildings, located in the green area center in Bükfürdő. In our hotel, we offer our guests no rooms, but fully equipped apartments.
Further data
Town: Bük
Address: Termál körút 41/A
Phone number: +36 (94) 558 622
E-mail:
Facebook: https://www.facebook.com/hotelbuk
Number of stars: 3
Number of rooms: 86, from dog friendly 3
Size of dogs allowed by us:
Maximum numbers of dogs per room: 1
Dogs surcharge per night: 3.500 HUF
Dogs allowed in the restaurant: no
The dog can go to the furniture: yes
Firework free: yes
Feeding - drinking bowl: yes
Dog bed: no
Dog towel: no
Dog Waste disposal bags: yes
Can be purchased with dog food: no
Dog walking service: no
Dog boarding: no
Veterinarian nearby: no
Dog beach nearby: no
Chip reader: no
"Dogs are members of the family."
We are aware of the fact that our pets are part of our lives and we love to have them by our side during holidays as well.
Our apartments are located in buildings B, C and D for our guests with pets. In Building A, pets are not even brought in during check-in. Dogs are kindly requested to be leashed in the Apartment Hotel and the muzzle is used in public spaces, which is necessary for the safety of you and your dog.




Map
[View map large sizes]