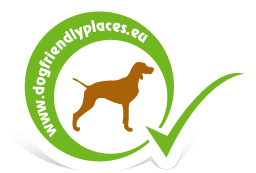 Be Dog-Friendly
Quick Search

Accommodations - Apartman Oasis
In Croatia, on the Island Vir, we have a 1 bedroom first floor apartment to rent for 4 people, specificly designed for people with pets.
Further data
Town: Vir
Address: Virski put 78
Phone number: +36 (70) 213 1809
E-mail:
Facebook: https://bit.ly/apartmanoasis
Number of stars: 2
Number of rooms: 2, from dog friendly 2
Size of dogs allowed by us:
Dogs surcharge per night: free
The dog can go to the furniture: yes
Feeding - drinking bowl: yes
Dog bed: yes
Dog towel: no
Dog Waste disposal bags: yes
Can be purchased with dog food: yes
Dog walking service: no
Dog boarding: no
Veterinarian nearby: yes
Dog beach nearby: yes
Chip reader: no
Since we are pet owners too, we were sorry to turn down guests with dogs, so we created a special apartment designed for people travelling with ther beloved pets, which we named The Oasis Apartment.
300 meters away from the beach, on the south side of the island Vir. It operates on weekly turnovers, changing on Wednesdays. Fully equipped, clean, satisfying all comfort. It has Air Condition, Wifi, Smart TV, Waching Machine, Hair Dryer, Iron.
It also has a comfy terrace, where we built a gas operated barbeque which accessable for all staying guests, we can also provide dog kennel on request. The apartment has parking space, and a fully fenced yard .
Do not leave your beloved puppies at home, bring them with you for your stay with us!
Important information for those arriving with dogs:
We DO NOT charge extras for puppies, no matter of their size neither their weight.
There are beaches on the island designed for people travelling with their pets!
We can only accept Educated, House-trained dogs, who they won't bother the community.
We also only accept pets who are vaccined and parasite free.
Close to the island, in the city of Zadar, there is a fully equipped Veterinary Clinic for your peace of mind.
For the comfort of your beloved ones, the apartman has dog beds, bowls, even leashes in case the owners left them home.






Map
[View map large sizes]