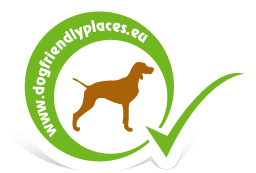 Be Dog-Friendly
Quick Search

Accommodations - Open Hotel
Be our guest! Visit one of the beautiful, sunny towns of the Lowland, Szentes. The Open Hotel awaits you! Thanks to the excellent location of the hotel, all recreational opportunities can be found at an arm's length. The hotel's colorful range of services offers the perfect opportunity for all ages to relax, recharge with experiences, and hold business meetings aswell!
Further data
Town: Szentes
Address: Örvény sor 1
Phone number: +36 (30) 656 5600
E-mail:
Number of rooms: 24, from dog friendly 2
Size of dogs allowed by us:
Maximum numbers of dogs per room: 1
Dogs surcharge per night: 5.000 HUF
Dogs allowed in the restaurant: no
The dog can go to the furniture: no
Firework free: yes
Feeding - drinking bowl: yes
Dog bed: yes
Dog towel: yes
Dog Waste disposal bags: yes
Can be purchased with dog food: yes
Dog walking service: no
Dog boarding: no
Veterinarian nearby: yes
Dog beach nearby: yes
Chip reader: no
The Open Hotel waits for its guests who want to relax with 24 rooms on 3 floors. Our rooms are air-conditioned, and their furnishings have been designed to guarantee perfect rest. All rooms have free Wi-Fi, LCD TV and minibar for the comfort of guests. The beautiful panorama looking at the river Kurca and terrace are also guaranteed for every room.
Important information for those arriving with dogs:

We welcome all dogs who are disciplined, socialized, groomed and flea-free.






Map
[View map large sizes]