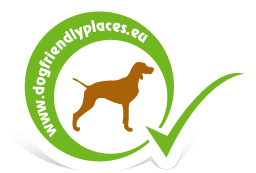 Be Dog-Friendly
Quick Search

Accommodations - Campy Eco House
Campy is the first 100% self-sustaining accommodation in the region.
Further data
Town: Ostoros
Phone number: +36 (30) 398 4001
E-mail:
Link: https://hellocampy.com/
Facebook: https://www.facebook.com/hellocampy
Number of rooms: 1, from dog friendly 1
Size of dogs allowed by us:
Dogs surcharge per night: free
The dog can go to the furniture: yes
Firework free: yes
Feeding - drinking bowl: yes
Dog bed: no
Dog towel: no
Dog Waste disposal bags: no
Can be purchased with dog food: no
Dog walking service: no
Dog boarding: no
Veterinarian nearby: yes
Dog beach nearby: no
Chip reader: no
Campy is located in the Eger wine region, surrounded by vines, far from the pulsating noise of the city. Nature is at your fingertips. Forget the monotonous world of everyday life and find your inner peace with us.
#hellocampy
Our upstairs terrace can be closed, it is high up, so it can be in a safe place. All dogs, regardless of size, are welcome at the Campy Öko Ház!