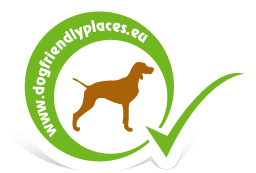 Be Dog-Friendly
Quick Search

Accommodations - Öreg-tó Club Hotel
Located only steps from the shores of the Old Lake and embedded within a beautiful natural environment, the Oreg-to Club Hotel of Tata, Hungary reflects familiar devotion and great Hungarian hospitality.
Further data
Town: Tata
Address: Fáklya utca 4
Phone number: +36 (34) 487-960
E-mail:
Facebook: https://www.facebook.com/oregtohotel/
Number of stars: 3
Size of dogs allowed by us:
Maximum numbers of dogs per room: 2
Dogs surcharge per night: 4900 HUF
Dogs allowed in the restaurant: yes
The dog can go to the furniture: no
Firework free: yes
Feeding - drinking bowl: yes
Dog bed: no
Dog towel: no
Dog Waste disposal bags: yes
Can be purchased with dog food: no
Dog walking service: no
Dog boarding: no
Fenced dog run: igen
Veterinarian nearby: yes
Dog beach nearby: yes
Chip reader: no
The hotel's 3 hectares of park create an idyllic place to relax, while the historical and cultural sights of Tata, the baroque townlet - also known as town of waters - are perfect for passionate sightseers.
The Oreg-to Club Hotel can accomodate 45 persons, in 1-2-3 bedded rooms. We have become a dogfriendly hotel in 2012. Since then we have given place to various "doggy" events. We kindly await guests with their beloved pets in our rooms.
Youth Hostel
Our friendly, hospitable youth hostel is located near to the Old Lake in Tata at a nature reservation area. The surrounding 3 hectares wooded park is ideal for relaxing and recreation.
The hostel is situated at the recreation area of Tata city, near to the Old Lake. All sights like the Castle, Lake Cseke, English Park, and Esterhazy Palace are within walking distance.
The Oreg-to Restaurant can accommodate up to 180 people for parties, business meetings and weddings.
We offer traditional Hungarian as well as international dishes for the hotel guests and local people.
On warm days you can enjoy your meal in our beautifully designed garden, at winter relax by the fireplace in a private saloon with a coffee and a cigar.





Images uploaded by users












Map
[View map large sizes]