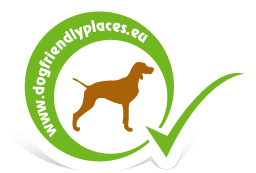 Be Dog-Friendly
Quick Search

Accommodations - Apartman Hotel
Das Apartment Hotel, ein Gebäudekomplex aus 4 Gebäuden, befindet sich in Bükfürdő, in der Nähe des Heilbades. In unserem Hotel bieten wir unseren Gästen keine Zimmer, sondern vollständig ausgestattete Appartements.
Weitere Daten
Town: Bük
Address: Termál körút 41/A
Phone number: +36 (94) 558 622
E-mail:
Facebook: https://www.facebook.com/hotelbuk
Number of stars: 3
Dogs surcharge per night: 3.500 HUF
Dogs allowed in the restaurant: no
The dog can go to the furniture: yes
Firework free: yes
Feeding - drinking bowl: yes
Dog bed: no
Dog towel: no
Dog Waste disposal bags: yes
Can be purchased with dog food: no
Dog walking service: no
Dog boarding: no
Veterinarian nearby: no
Dog beach nearby: no
Chip reader: no
Wir werden die Größe Hunde:
Anzahl der Zimmer: 86, from dog friendly 3
Die maximale Anzahl der Hunde pro Zimmer: 1
"Wir lieben Hunde."
Wir wissen, dass der Hund ein Familienmitglied ist und wir möchten auch bei uns auf Urlaub zu sein. Wir wollen, dass die ganze Familie bequem in unserem Hotel zu fühlen.
Unsere Appartements befinden sich in den Gebäuden B, C und D für unsere Gäste mit Haustieren. Im Gebäude A werden Haustiere beim Check-in nicht einmal mitgebracht. Hunde werden gebeten, im Apartment Hotel angeleint zu werden und der Maulkorb wird in öffentlichen Räumen verwendet, was für die Sicherheit von Ihnen und Ihrem Hund notwendig ist.




Karte
[Größen Landkarte]