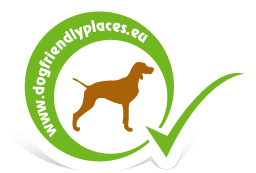 Be Dog-Friendly
How to qualify your
dog-friendly place?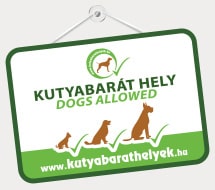 Learn more about our
trademark certification!
Learn more
Quick Search

Accommodations - Dráva Hotel Thermal Resort****
Unser Wellness Hotel befindet sich in Harkány, Süd-Ungarn, in einer der berühmtesten Heilbadstädten. Pécs, die Kulturstadt mit zahlreichen Sehenswürdigkeiten, liegt nur 25 km entfernt. Und Budapest ist nur 200 km weit von uns.
Weitere Daten
Town: Harkány
Address: Bartók Béla utca 1
Phone number: +36 (72) 580-980
E-mail:
Link: http://dravahotel.hu/
Facebook: https://www.facebook.com/dravahotel/
Number of stars: 4
Dogs surcharge per night: 5.000 HUF
Dogs allowed in the restaurant: no
The dog can go to the furniture: yes
Firework free: no
Feeding - drinking bowl: yes
Dog bed: yes
Dog towel: no
Dog Waste disposal bags: yes
Can be purchased with dog food: yes
Dog walking service: no
Dog boarding: yes
Veterinarian nearby: yes
Dog beach nearby: no
Chip reader: no
Wir werden die Größe Hunde:
Anzahl der Zimmer: 88, from dog friendly 88
Es trennen Sie nur wenige Minuten von dem Partner unseres Hotels – von dem sogenannten Termál Kemping Apartmanházak - der auf 5,4 Hektar liegt. Dieses Unternehmen garantiert eine wunderbare Umgebung nicht nur für Familienereignisse, Firmenveranstaltungen und verschiedene Treffen, sondern auch für die Entspannung mit Ihren Hunden.
Unsere Kapazität ist sehr hoch, deshalb können wir viele Gruppen empfangen. Es stehen verschiedene Unterkünfte zur Verfügung: Appartementhäuser, Appartements, Hotelräume, Plätze für Wohnwagen und Zelte, sowie Jugendherberge.
Hier stehen abwechslungsreiche Programme für Familien und Freunde zur Verfügung.
Für unsere Gäste können wir Ausflüge, Veranstaltungen von Firmen, Trainings, kulturelle Programme, Weinabende mit der Reiseleitung veranstalten. In der Region gibt es viele Möglichkeiten für Ihre Hunde auch.





Karte
[Größen Landkarte]
Be Dog-Friendly
How to qualify your
dog-friendly place?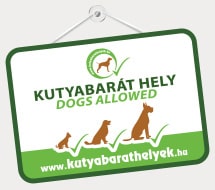 Learn more about our
trademark certification!
Learn more