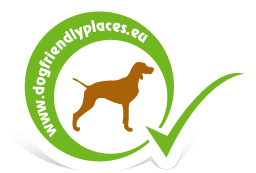 Be Dog-Friendly
How to qualify your
dog-friendly place?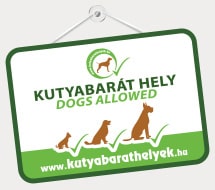 Learn more about our
trademark certification!
Learn more
Quick Search

Accommodations - István Park Hotel & Restaurant
Dog friendly park hotel in the heart of the Zala countryside.
Further data
Town: Sormás
Address: Külterület
Phone number: +36 (93) 375-160
E-mail:
Facebook: https://www.facebook.com/IstvanHotel/
Number of stars: 3
Size of dogs allowed by us:
Dogs surcharge per night: 4000 HUF
Dogs allowed in the restaurant: yes
The dog can go to the furniture: no
Firework free: no
Feeding - drinking bowl: yes
Dog bed: no
Dog towel: no
Dog Waste disposal bags: yes
Can be purchased with dog food: yes
Dog walking service: no
Dog boarding: no
Veterinarian nearby: yes
Dog beach nearby: no
Chip reader: no
István Park Hotel & Restaurant
The Hungarian gastronomy was born in the country and that's where it returns.
Our restaurant is an outstanding example of reconsidered country stove cuisine and the modern serving of old tastes. We purchase our basic ingredients from local producers, pick fresh herbs from our private spice garden, smoke fish, ham, cheese and cottage cheese on the spot.
We are not aiming to change the old flavours, instead, we are trying to get at their roots.
Our guests can discover and feel the country delicacy, a tiny slice of Provance, in our modern serving style. The tufa and handcrafted ceramics highlight the meals in a distinct harmony of colours, enhancing the unique nature of each dish.
Having finished your meal, you can enjoy a nice walk in the restaurant's park, with your friends or family, too. The hotel lies in a peaceful environment, even though the highway is only a kilometer (~ 0,6 mile) away. The park hotel is constructed from beautiful natural materials, the carved playground, the outer stoves, the smokehouse, the grilling spot, the enormous decorated pond and the paved paths all point to the significance of the place: it is always worth a visit.
For guests staying for more nights, we have various program offers: quad and bicycle tours, beach volleyball, archery and wellness possibilities.
Dogs are welcome:
Guests arriving with dog(s) can stay in the two-room apartment on the ground floor, facing the pond with direct connection to the garden and an open terrace. Dogs can enjoy the comfort of a nice dogbed with a blanket.
Well-trained dogs are welcome in our restaurant: they can stay by their family's side while the parents are enjoying their meal.
Next to the pond decorating the hotel's area and its green environment dogs can run and play free. If you are planning to go on a longer walk, the 10 km-long (~ 6 miles) hiking track starting from the hotel provides ideal outdoor activities for both you and your beloved four-legged friend. The track takes you through forest land all the way to Homokkomárom. Another great adventure is the Eszteregnye excursion route.
Dog grooming salons and veterinarians are available on demand in Nagykanizsa, located only 4 kms (~ 2,5 miles) from our hotel. We will be glad to provide information, contact and help you with appointments.
If you are planning to stay for more nights, you will have the opportunity to accompany the hotel's therapy dog in training to the nearby dog school.
Dog food can be purchased in larger quantity in the hotel's 24-hour-open shop.






Map
[View map large sizes]
Be Dog-Friendly
How to qualify your
dog-friendly place?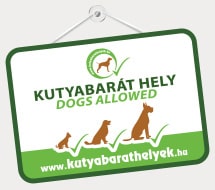 Learn more about our
trademark certification!
Learn more