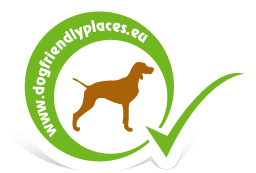 Be Dog-Friendly
Quick Search

Accommodations - Kenderföldi üdülő
The dog-friendly fishing house is located at the Kenderföldek resort, directly on the waterfront Siratói backwater.
Further data
Dogs are allowed in the apartment: yes
Written introduction
The house can be approached through a stone road. The car can stand in court. The angler house has two bedrooms, the big room has one double bed. The smaller room has two single beds. On the ground floor there is an open air kitchen and living room with pull-out beds for two persons.
The kitchen is equipped with dishes for 6 people (cutlery, plates, a two-person coffee maker, microwave, frying pan, gas stove, pot kit etc). The yard has a barbecue, with facilities, the tools you need to provide. The bathroom has a shower, hand wash basin and toilet. TV with satellite channels. The house is supplied with water drilled well, it is suitable for cooking, bathing, but drinking is not recommended. The house has a large terrace for six plastic garden furniture. Fishing possibilities from a pier. A boat is at the disposal of visitors. Bathing, swimming is possible in the oxbow, a pier with a ladder to get into and exit the water.
Booking through the given phone number!






Map
[View map large sizes]