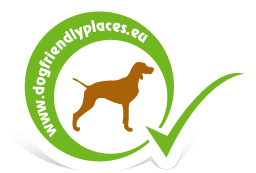 Be Dog-Friendly
Quick Search

Accommodations - Laci Betyár Fogadó
Our guests are awaited by pure Plain atmosphere, comfortable en suite double rooms, apartments on demand, home-cooked food and friendly service. Pets are welcome.
Further data
Town: Hajdúszoboszló
Address: József Attila utca 38
Phone number: +36 (30) 62 74 924
E-mail:
Size of dogs allowed by us:
Maximum numbers of dogs per room: 2
Dogs surcharge per night: 500 HUF
Our guesthouse can be found next to Europe's biggest spa complex, the Hungarospa Thermal and Open-Air Bath. In our landscaped garden all ages will find something to like. Take a seat on the sunny terrace and have a cup of coffee next to the fountain. Hug your loved one in the romantic garden pavilion.
Admire our goldfish in the pond with your children! In the garden bar you can toast with delicious palinkas (Hungarian type of spirit), have a glass of Hungarian beer or wines from family wineries in the cellar.
Cook or barbecue your dinner with your friends in the garden. You are awaited with Hungarian style dishes and goodies from the outdoor oven.
Our guests can purchase entrance tickets to the thermal and the open-air bath or the Aqua-Palace for reduced price.
Would you like to have medical cures? You just have to walk over to the Thermal Hotel in a bathrobe, and you can have various medical treatments.
Opening hours:
Monday: 07:00 - 22:00
Tuesday: 07:00 - 22:00
Wednesday: 07:00 - 22:00
Thursday: 07:00 - 22:00
Friday: 07:00 - 22:00
Saturday: 07:00 - 22:00
Sunday: 07:00 - 22:00




Map
[View map large sizes]