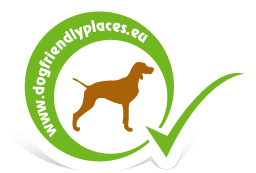 Be Dog-Friendly
Quick Search

Accommodations - Zalakaros Dream House
Further data
Town: Zalakaros
Address: Szőlő utca 57.
Phone number: +36 (30) 271-8992
E-mail:
Size of dogs allowed by us:
Dogs surcharge per night: free
Dogs are allowed in the apartment: yes
This part of Western Hungary provides everything you could be looking for in the countryside: beauty and attraction; a harmonius environment combining the long-stretching flatland and the gentle slopes of the hills, not to mention the biological diversity: the unique combination of special plants, rare animals, amazing forests, swamps and flourishing fields.
Moreover, there is an extraordinary treasure, a precious gift from the Earth's depth: the medicinal water rich in minerals, surfacing with a 100ºC (~212ºF) temperature. Thanks to its healing characteristics this part of Central-Europe is getting wider recognition among the people who are searching for a cure.
Every year, nearly 1 million guests visit Zalakaros to find recreation in the peaceful environment and to regenerate their tired, exhausted or ill bodies in the healing water.
It would be our greatest pleasure if you got interested in Zalakaros and our Dream House. We would be more than glad to welcome you among our returning guests soon.
Our apartments offer the following opportunities: a 1-room suite on the ground floor for 2 persons and a 2-room suite for 4 persons. They are ideal choices for handicapped guests, as well. The house has additional apartments for 2+2 persons.
Every suite has a colour television with channels in German language, a fully-equipped kitchen and a modern bathroom with a toilet. Every room has a terrace or a balcony. The house and the garden is surrounded by a fence and the yard provides a parking lot for our kind guests.
Besides the lovely Spa experience, our guests can choose from a wide variety of recreational and hiking possibilities:
horse-riding, carriage tours and other equine programs
exploring the Small-Balaton Nature Protection Area
a visit to the Buffalo Reserve in Kápolnapuszta
the Lake Balaton is located 30 kms (~18,5 miles) from Zalakaros
fishing opportunities in nearby villages
grape harvest festivals with wine-tasting in the autumn period
well-constructed bicycle paths
an interesting playground for children located in a romantic park only 50 ms (~165 feet) from our house
Our prices are fair and we provide detailed information.
We are looking forward to welcoming you among our future guests!
Written introduction
In this parts of Western Hungary one can find rural diversity, beauty and attraction; a harmonious environment between the far-reaching plains and gently curving hills; forest and wildlife; the moors and flowering fields; unit of the special plants and rare animals.
In addition, there is an extraordinary treasure is hiding inside the earth's precious gift: the mineral-rich thermal water breaking temperature close to 100 ° C. Therefore this part of Central Europe and is area is known better and better among the ones who seeks recovery.
Every year, around 1 million guests visit here Zalakaros, to relax, regenerate their tired and exhausted or sick bodies in the strong healing water in a peaceful environment.
We are delighted if we could arouse your interest and you and your family will be soon welcome among our returning guests.
The apartments offer the following possibilities: the ground floor is a one bedroom suite for 2 persons and a 2 bedroom apartment for 4 persons. It is practical for disabled visitors. The house is also 2 bed apartments are where it is possible to plus 2 people. All suites feature a color TV with German programs, and a fully equipped kitchen and a modern shower and toilet. Each room has a terrace and balcony. The house is protected by a fence, the yard provides parking for guests' cars.
Apart of the thermal "relaxation" we offer the following wide range of leisure and excursion opportunities:
horse riding and horse-drawn carriage tour
Little-Balaton Nature Park and Buffalo Reserve
Lake Balaton is about 30 km from Zalakaros
nearby villages are suitable for fishing possibilities
during autumn picking grapes and wine tasting
well-built cycle paths
50 m from our apartment in a romantic park there is a popular children's playground
Our prices are favourable and we give immediate information.
We welcome you in advance amongst our guests!


Images uploaded by users













Map
[View map large sizes]