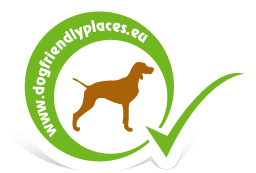 Be Dog-Friendly
Quick Search

Accommodations - Lukács B&B
Further data
Town: Zalakaros
Address: Liget út 15.
Phone number: +36 (30) 271-8992
E-mail:
Size of dogs allowed by us:
Dogs surcharge per night: free
Dogs are allowed in the apartment: yes
Our apartments are located 700 meters (~0,4 mile) from the Zalakaros Spa.
Every apartment is equipped with colour television (multilingual channels), a kitchen with a refrigerator, a coffee machine and an oven, a bathroom and a toilet. The room has a balcony or a terrace.
There are 3 apartments on the ground floor, ideal holiday homes for handicapped guests as there are no steps.
The house has a 55 square-meter hall, ideal for family reunions, friends, social evenings and parties. Every apartment and also the hall can be heated.
We offer:
2 apartments for 2 guests
2 suites for 2 adults + 2 children
a 2-room apartment for 4 persons
a 3-room apartment for 6 persons
parking lot in a closed yard
Lukács B&B is a cosy holiday house with fair prices.
We are looking forward to welcoming you among our guests!
Written introduction
Our flats are 700 m away from the spa .
Each apartment is equipped with colour television with multi-lingual channels. Fully equipped kitchen, fridge , bathroom , toilet, coffee maker , gas stove .
The rooms come with balcony. 3 apartment is located on the ground floor, so no stairs to meet the needs of disabled guests .
In addition, one can found a 55 m2 room for family gatherings , or for friends to hold parties . All apartments and the main hall are heated.
We offer:
2 apartments for 2 persons
2 Suites for 2 people + 2 children
2 bedroom apartment for 4 people
3 bedroom apartment for 6 people
Parking facilities can be solved within a closed yard.
Our prices are low!
We welcome your interest!




Images uploaded by users




Map
[View map large sizes]