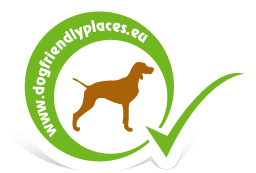 Be Dog-Friendly
Quick Search

Dog friendly places - Tourinform Tihany
Visit us in our Tourinform office, ask for help of our colleagues, choose from our prospects and maps.
Further data
City: Tihany
Address: Mádl Ferenc tér 1.
Phone: +36 (87) 448 804
E-mail:
Link: https://www.tihany.hu/hu
Dogs are allowed in the shop:
Tourinform Tihany is located on the main square, close to the Benedictine Abbey.

In our office you can find free and paid brochures, maps as well as we sale local products and souvenirs.

Opening hours:
Monday: 09:00 - 17:00
Tuesday: 09:00 - 17:00
Wednesday: 09:00 - 17:00
Thursday: 09:00 - 17:00
Friday: 09:00 - 17:00
Saturday: 10:00 - 16:00
Sunday: 10:00 - 16:00





Map
[View map large sizes]