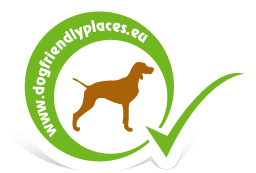 Relax with therapy dogs before your flight
13:00 - 08 October 2016
Author: M.Lilla
Category: Useful
International airports in the U.S. and Moscow apply therapy dogs to unstress and cheer up passengers. The method has a wonderful effect on people.
LOS ANGELES -- Claire Arno and her two children missed their flight from San Francisco to Los Angeles. Stuck waiting at Los Angeles International Airport for the next flight to New York, Arno is looking for ways to entertain Piper, 4, and Marius, 6.
Along come Hazel, Rosalie and Kai. The three dogs — a pointer mix, a Chihuahua/terrier mix and a long-haired Dalmatian — command as much attention as Gwyneth Paltrow would sauntering through LAX. Arno's kids rush over to pet the dogs. Other travelers snap photos of or take selfies with them. The dogs' owners call them the "pup-arazzi." (usatoday.com)
"It's absolutely nice to run into them," Arno says as she watches her kids play with the pooches at Delta Airlines Terminal 5. "I think it calms the kids down. It's a little bit of home at the airport." That's exactly what LAX officials had in mind when they started the Pets Unstressing Passengers, or PUP, program last year.
Thirty trained dogs have been employed to relax and entertain stressed-out travelers. Wearing red vests that instruct people to "pet me", the dogs wander LAX's terminals with their owners, providing comfort and airport information.
For frazzled travelers, "this is a breath of fresh air and fun for them," Heidi Huebner, director of volunteers for the PUP program at LAX.
Dogs are celebrities
About 20 airports across the USA and Canada — including Miami International Airport, San Francisco International Airport, Mineta San Jose International Airport andEdmonton International Airport — have therapy dogs.
Air travel can be particularly stressful these days. The mysterious disappearance ofMalaysia Airlines 370 in March and now the shootdown of Malaysia Airlines Flight 17last week have travelers on edge.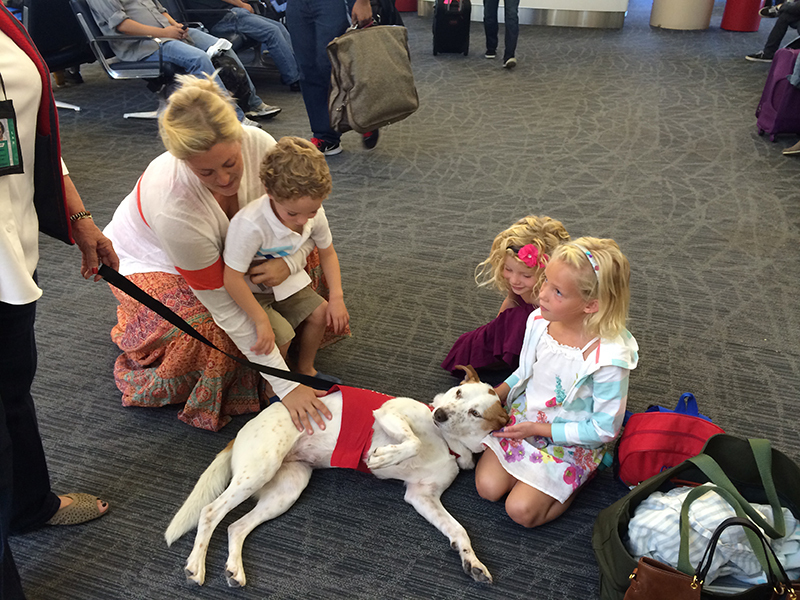 Even when passengers aren't worried about catastrophic events, they're dealing with a traveling experience that has deteriorated in other ways. About nine out of 10 travelers recently surveyed by the firm ResearchNow for the U.S. Travel Association said that in the past year, air travel has become either more of or is as much of a hassle. Flight delays and cancellations are the biggest complaints, but long security lines and checked-bag fees also are frequent gripes, according to the online survey of 1,031 business and leisure travelers from Feb. 5 to Feb. 12.
"We know air travel can sometimes be hairy due to Mother Nature, delays," and other stressful events says Tara Hernandez, marketing and communications manager atGerald R. Ford International Airport in Grand Rapids, Mich., which has six therapy dogs in its Gentle Fur in Action program. "What we have tried to establish with our … program is a sense of comfort, a way to ease anxiety and stress."
At LAX, Hazel, Kai and Rosalie are doing their best. "When she puts that vest on, she knows she has to work," says Lou Friedman, a retiree who owns Hazel with his wife, Barbara. The work beats Hazel's previous life, though. The Friedmans rescued the 9-year-old pointer mix from a shelter. When they found her, she was so afraid of people that she insisted on sleeping in a closet. She eventually let her guard down, and she and her owners now dedicate a few hours a week to helping others in distress. Hazel's favorite way to make a traveler chuckle is to lie on her back and wiggle around.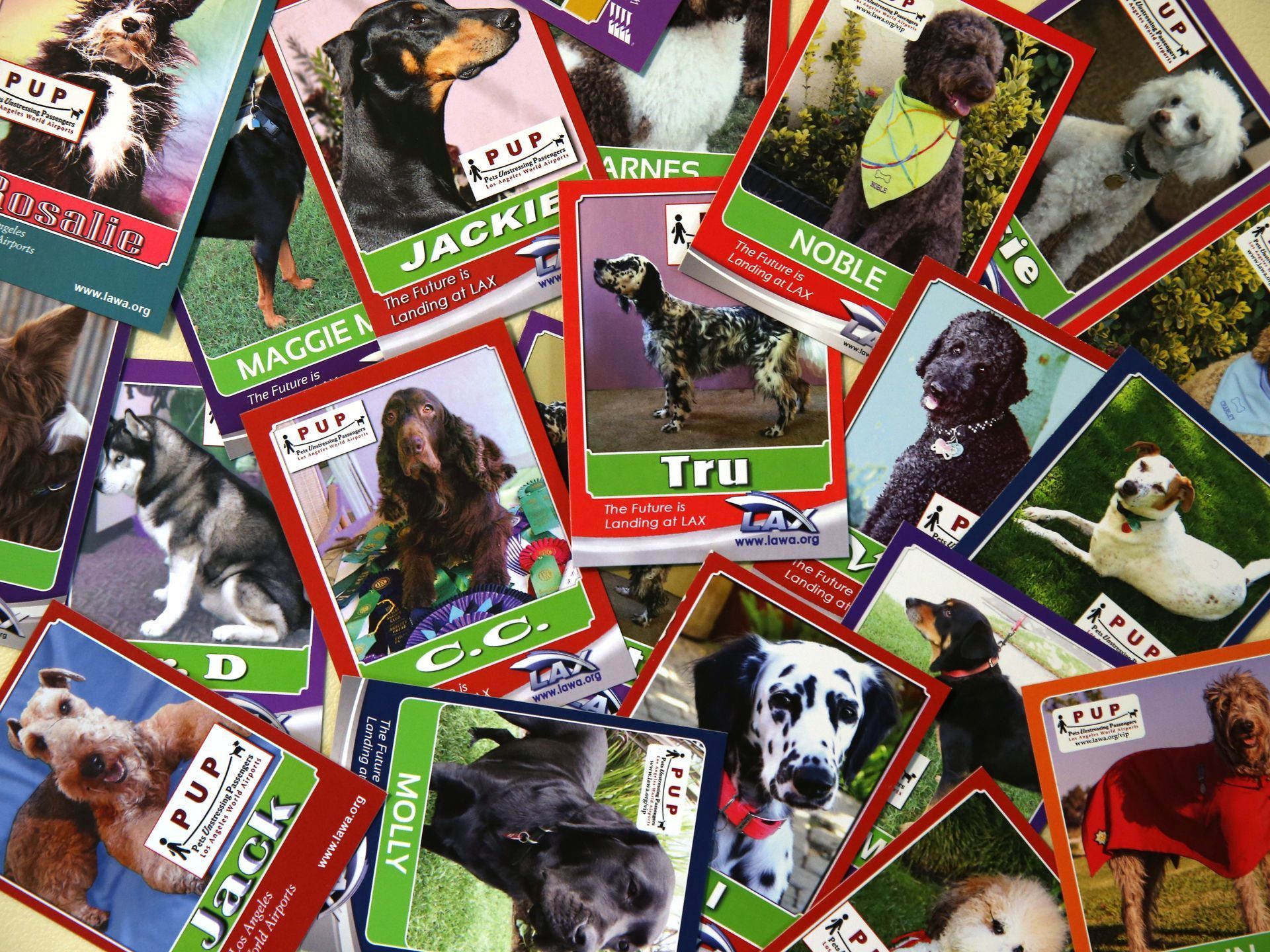 Like other airport therapy dogs, Hazel had to be trained before she was hired.
At LAX, the pups must have worked with a dog therapy organization for at least a year. They have to be at least 2 years old. And they have to be registered with Therapy Dogs Inc.,which evaluates people and pets who are involved in volunteer animal-assisted activities. The pets usually visit hospitals, schools, nursing homes and other venues before getting the airport gig. They then go through classroom training at LAX, which includes a walk-through with Huebner to ensure they are the right fit. Owners are fingerprinted and badged for security reasons.
Other airports have similarly stringent requirements. Fort Lauderdale-Hollywood International Airport requires dogs and their owners to go through four evaluation visits.
The LAX dogs typically are available for a few hours a day every day of the week. Each dog works until he or she gets tired. "When the dogs are done, they're done," says Norm Zareski, who owns 10-year-old Rosalie.On a recent Friday, Hazel, Kai and Rosalie enthusiastically take a stroll. They intend to get through all of Terminal 5 but make it only a few feet past security. "A lot of times, they don't make it past this area," Huebner says. "It's quality, not quantity."
They are canine celebrities at LAX, a place used to playing host to many human celebrities. The pups even have business cards that tell travelers what their favorite treats and lounging spots are. Hazel's favorite treat is cooked egg yolks. Kai likes bell peppers. Rosalie's favorite place to lounge is on "any lap."
The dogs attract children mostly, but they also often help the adult traveler who's just having a bad day. "You can tell. You see it on their faces," Zareski says.
Megan Moroney has been up since 3 a.m. She's heading to a friend's wedding in San Jose. She was packing until midnight and then had to work a morning shift at a coffee shop before heading to the airport.
She's exhausted, but when she spots the dogs, she heads straight to them.
"This is the greatest thing you can bring to an airport because everyone is stressed out or bored," she says. "I just saw them and feel rejuvenated and excited. I feel peacefully happy."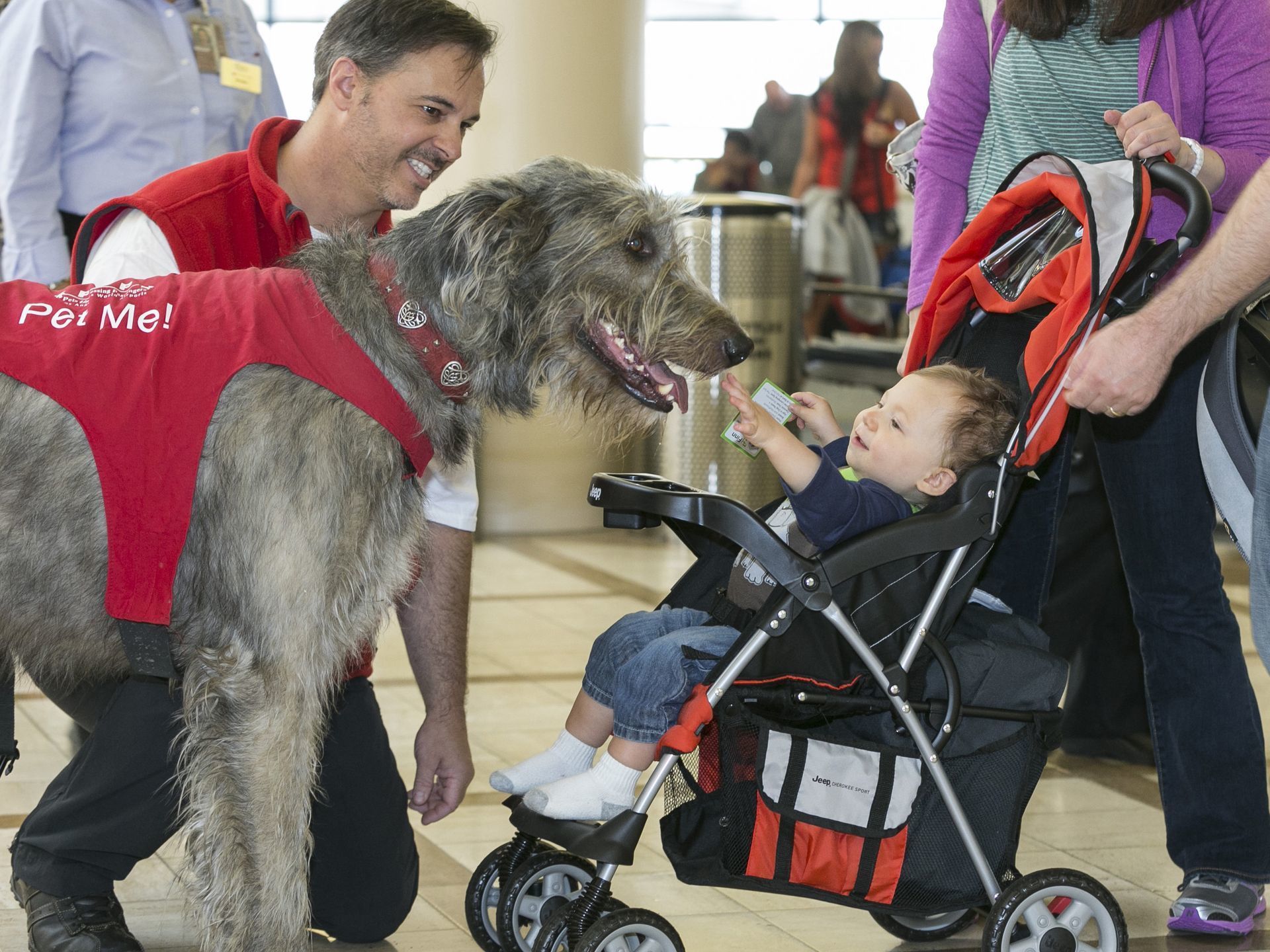 Therapy dogs in Moscow airports
Moscow's Sheremetyevo airport may start using special dogs to help passengers de-stress before departure. A similar service was launched at seven U.S. airports in the busy week in the run-up to Christmas, Sheremetyevo press secretary Roman Genis said. (rbth.com)
"We are ready to study the experience of our American colleagues. If it turns out to be positive, we may launch a similar service to help our passenger relax before departure," he explained. Genis went on to add that the airport was ready to consider relevant suggestions from dog centers that could provide dogs who have the necessary training.
Moscow's Domodedovo airport does not have special comfort dogs, but their therapeutic function is partly performed by sniffer dogs. "Our airport employs over 20 sniffer dogs at present, including Malinois, German Shepherds, and passengers' favorites, Cocker Spaniels. The dogs are friendly and are always happy to interact with visitors to the airport," said the Domodedovo press service.
Experts point out that the best breeds for serving as therapy dogs are Retrievers and Labradors. "However, even within the same breed, dogs may have very different characters. What matters here is individuality. The dog should be psychologically stable, friendly, active, and have a certain degree of childishness," said Vitaly Orlov, head of the Orlov School dog-training center.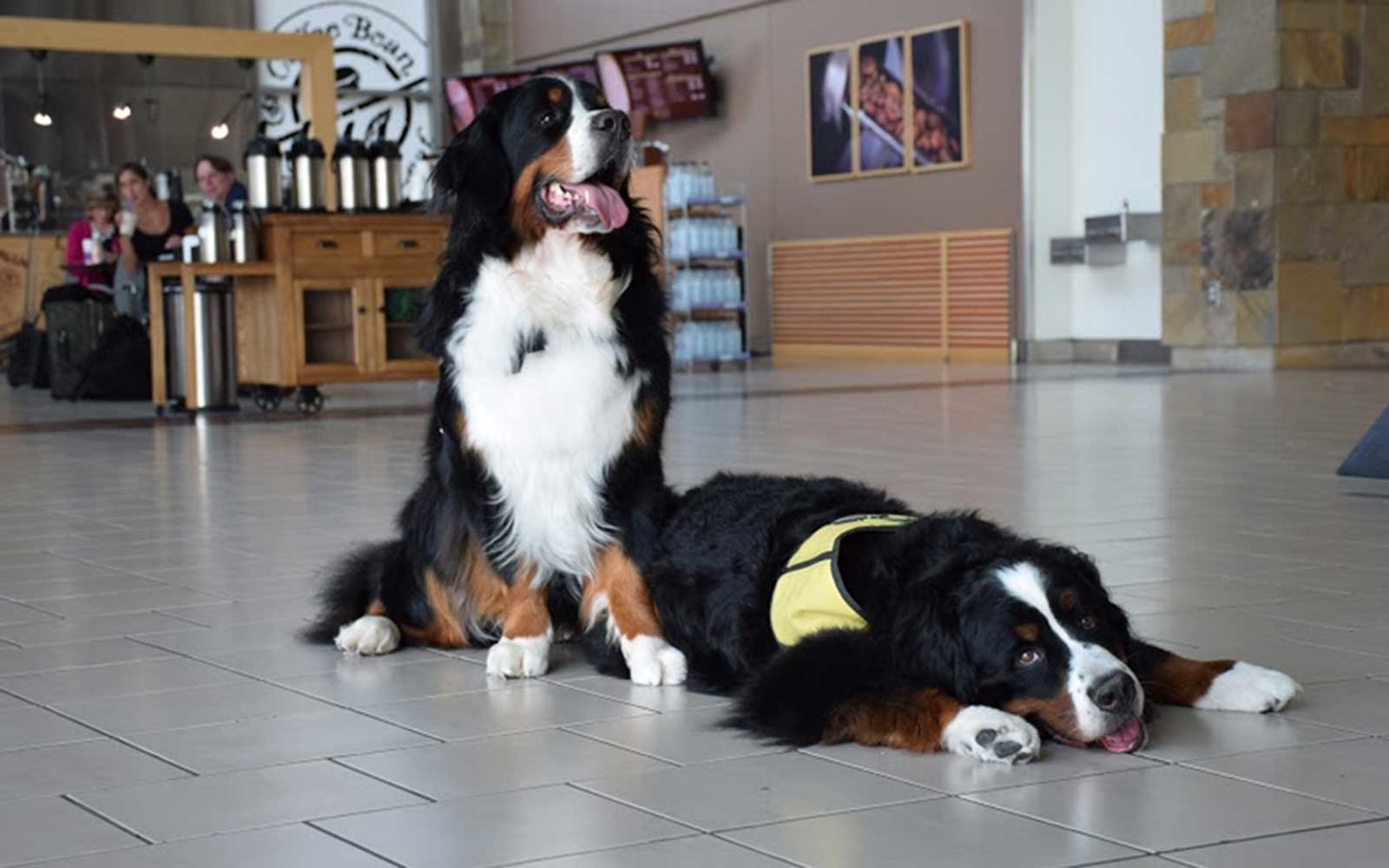 ---
Click here to watch the usatoday.com report about Hazel, Rosalie and Kai.
---
Source: rbth.com, usatoday.com
Index image source: lawa.org
First appearance of this article: 2016. January 27.
Translated: Maurer Lilla
If you liked this article and would like to be informed about latest news
we ask give a like our Facebook page!
Related news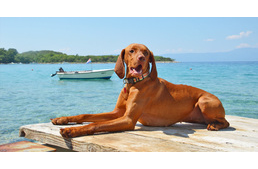 4+1 dog friendly beaches in the Island of Krk in Croatia
Croatia is an extremely popular holiday destination among European people, and more and more dog owners also discover the state. Croatia is surprisingly dog friendly, pets are kindly welcomed there. We could also experience it during our short visit: we were greeted with open arms on the island.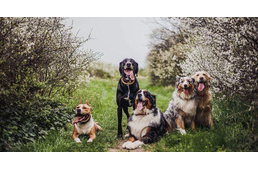 Hiking with your dog – 4+1 reasons to choose outdoors more often
As dog lovers, we usually spend more time out and about than our dog-free fellows. However, it can be hard for most of us to leave our regular tracks due to the lack of time, energy or mood. But it's always worth going on longer hikes every now and then.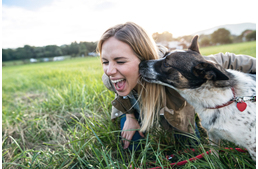 Why does your dog lick you?
Are you also often licked by your dog? If so, then you must have already thought about its reasons, that why does your dog enjoy doing this with you.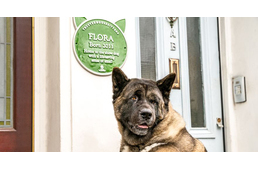 A new plaque scheme has launched to celebrate amazing animals
A new scheme has launched in the UK, that is all about honoring animals, rather than people.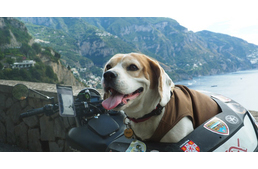 Dog On Motorcycle – Italy through the eyes of a motorcyclist and his awesome dog – Part 3.
Travelling with a Biker Dog in Italy. The journey continues through Naples, the Mount Vesuvius and Pompei - it had a few surprises on Brigi and his Dad's sleeves but you will surely enjoy it just as much as we did.