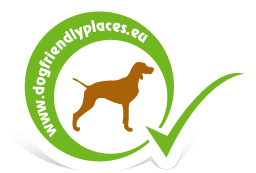 Be Dog-Friendly
Quick Search

Accommodations - Camping Aranypart
Dogfriendly camping right on the shores of Lake Balaton.
Further data
Town: Siófok
Address: Szent László utca 185
E-mail:
Size of dogs allowed by us:
Maximum numbers of dogs per room: -
Dogs surcharge per night: 1.200 HUF
Dogs allowed in the restaurant: yes
The dog can go to the furniture: yes
Firework free: yes
Feeding - drinking bowl: no
Dog bed: no
Dog towel: no
Dog Waste disposal bags: no
Can be purchased with dog food: yes
Dog walking service: no
Dog boarding: no
Veterinarian nearby: no
Dog beach nearby: no
Chip reader: no
Camping Aranypart is situated immediately at the Lake Balaton, approximately 5 km from the city center of Siófok. The great, family-centered camping offers numerous possibilities for spending leisure time in an active but relaxing way. At the public beach next to the camping site there is a water ski facility and a playground for children can be found there too.
The camping site will provide you with everything necessary for a carefree vacation: several snack bars, a shop and a restaurant, where both children and guests with food intolerance will find meals that meet their requirements.
You can recover from everyday stress on the beach and by the adventure pool in comfortable sunbeds or rent various water vehicles (e.g. pedal boats).
From the middle of July, our animators await children and even adults with exciting events every day from morning to evening.






Map
[View map large sizes]