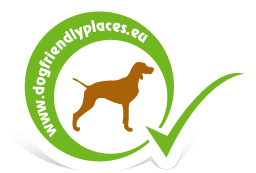 Be Dog-Friendly
Quick Search

Accommodations - Hotel Berghof Mitterberg***
(Active) Recreation in the dog friendly Hotel Berghof Mitterberg*** on the beautiful alpine highlands.
Further data
Town: Mitterberg
Address: Matzling 69
Phone number: +43 6645938313
E-mail:
Size of dogs allowed by us:
Dogs surcharge per night: 5 EUR
The Berghof Mittelberg hotel was built on the sunny slopes of Mitterberg with a wonderful panorama to the surrounding mountains. Thanks to its favourable setting, all the surrounding ski regions are easy to approach.
The Hotel Berghof offers 26 comfortable rooms, each equipped with a balcony, a private bathroom, a hair dryer, a Satellite Television, a mini bar and a safe.
The compelling limestone walls and the breathtaking glacier world of the Mountain Dachstein, the Schladming Tauern's impressive rock peaks and more than 300 crystal clear mountain lakes are truly a slice of heaven not only for guests looking for some recreation but also for families with children.
Those who prefer to spend their holidays actively can choose from a wide range of programs: there are several hundred kilometers of hiking routes to explore, an exciting mountain bike ground and various paths ideal for cycling and horse-back riding. All available in the beautiful land of impressive mountains, alpine meadows and wide valleys.
Sights to visit nearby:
Adventure Park Gröbming
Dachstein Ice Palace (Dachstein Eispalast)
Dr. Vogelgesang Klamm
Gollinger Waterfall (Gollinger Wasserfall)
Grossglockner
Hallstatt
Kurpark – Gröbming
Lake Gosau (Gosausee)
Lichteinstein Klamm
Rafting tours for the whole family
Hallein Salt Mine (Hallein Salzwelten)
Salza Waterfall (Salza Wasserfall)
Skywalk Dachstein
Stoderzinken
Werfen Burg (Werfen Castle)
Not far from the hotel, among the mountains lies Hallstatt, one of Austria's most beautiful and romantic small towns. The tiny central square is embraced by 15-16th century houses, enchanting visitors with its unique atmosphere.
Sights to visit in Hallstatt:
Salt mine (Salzwelten Hallstatt)
Rudolf Tower: Standing on the 863 meter-high Himber Peak above Hallstatt, the Rudolf Tower was erected in 1284. Its primary purpose was to guarantee the safety of the salt mine workers who risked their lives in the nearby Salzbergwerk. Today the tower gives home to a restaurant.
Welterbeblick Lookout Tower: at 360 m high above Hallstatt you can enjoy the wonderful panorama of the town and the Lake Hallstatt. The triangle-shaped lookout tower is located on the Salzberg, near the Rudolf Tower Restaurant.
Hallstatt Charnel House (Beinhaus Hallstatt)
Parish Church in Hallstatt (Katholische Pfarrkirche Hallstatt)
Hallstatt Museum






Map
[View map large sizes]