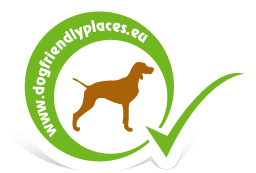 Be Dog-Friendly
Quick Search

Accommodations - Hotel Juno
Dog friendly hotel in Prague!
Further data
Town: Prága
Address: Štěchovická 2a
Phone number: +420 274822276
E-mail:
Link: http://www.hoteljuno.cz/
Size of dogs allowed by us:
Dogs surcharge per night: 8 EUR
The high-capacity building of Hotel Juno with its impressive 15 storeys, is located in the silent residential area of Prague. Each of the 258 rooms is equipped with a bathroom (shower), a television, a telephone and a safe. The hotel's restaurant offers international and tradition czech cuisine. The wide terrace is opened in the summer season, inviting guests to taste refreshing drinks.
The center of Prague is easy to access (approx. 15 min.) thanks to the nearby railway and subway stops.
Prague – The Golden City
It's probably no exaggeration to say that Prague, the capital of the Czech Republic, is one of the world's most attractive places. The impressive environment, tarnished edifices and plenty of sights will make your stay memorable.
The Charles Bridge, crossing the Vltava river, is one of the city's main monuments, a must-see for tourists. The bridge is the ideal opportunity to cross the river as it links the Old Town and the Castle Quarter. Fortunately it is only open for pedestrians, which makes the experience even more enjoyable. Entering the Royal Palace, the Saint Vitus Basilica is definitely worth a visit, especially its hightower offering a wonderful panorama to the city and its historical monuments. The Charles Bridge, the Old Town, the river and other sights will leave you amazed.
The Charles Street leading to the Charles Bridge is one of the city's busiest streets. Plenty of shops can be found here, most of them sells souvenirs for tourists visiting Prague. If you get hungry on your journey, several restaurants, cafés and bars invite your for a nice meal here. Take your time to explore various parts of Prague, even the tiny alleys – the more you get to know the area, the deeper you will fall in love with its atmosphere, a city radiating tranquility yet brimming with life.





Map
[View map large sizes]