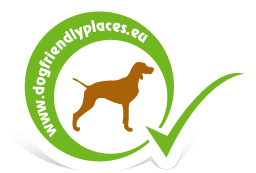 Be Dog-Friendly
Quick Search

Accommodations - Hotel Sonja
A typically dog friendly hotel in the Italian South-Tyrol. Set in a beautiful natural environment, numerous great opportunities offer recreation for both owners and their four-legged friends.
Further data
Town: Cadipietra
Address: Strada Statale 621 131
Phone number: (+39) 0474 652184
E-mail:
Size of dogs allowed by us:
Dogs surcharge per night: free
The Hotel Sonja is located in the town of Steinhaus, in a wonderful environment of the Tauferer Ahrntal's South-Tyrolian part, right at the Klausberg Valley station. Built in 2000, the hotel was expanded further in 2006.
The familiar atmosphere hotel is run by the Sonja sisters with the help of their four-legged friends, Sunny and Rex, who are always up for some fun and nice work.
The hotel's rooms are comfortably furnished, each equipped with the following: a bathroom with a shower, a television, a telephone, a safe, a small table or a writing-desk and a balcony.
Guests can enjoy a wide variety of pampering treatments in the wellness section. Relax in the Finnish sauna or Roman steam bath after an adventurous day, or try a refreshing massage!
The hotel offers various programs and services for guests with dogs:
A separate dining hall for dogs and their owners
A large garden with a pond and exersize field surrounded by a fence
Dog sitting service inside the hotel (with extra fee)
Pet accommodation in the owner's room
A dog blanket and feeding bowl in the hotel room
Bathing opportunity (dog towels provided)
Delicious welcome treats
A separate dog litter bin at the reception desk
Hiking routes of various length, starting from the hotel
Dog hiking tips
Steinhaus - Ahrntal
The surroundings
The Tauferer Ahrntal has numerous recreational possibilities to offer for all those, who spend their holiday here during the summer season. What you choose, depends only on you! The range of programs and opportunities is nearly endless: hiking, mountain-climbing, wall-climbing, rafting, kayak-canoe, tennis, horseback-riding, swimming, cycling are just some of the activities offered by the area. And if you are looking for some more, visit the Dinoland dinosaur park in Klausberg or try the Klausbergflitzer, the fabulous roller coaster ride of the Alps. All the programs mentioned above will surely provide a memorable experience for the whole family. Your pleasant holiday in the Italian South-Tyrol is guaranteed!





Map
[View map large sizes]