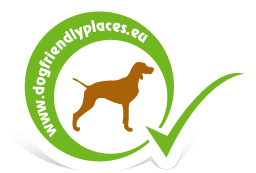 Be Dog-Friendly
Quick Search

Accommodations - Körtefa Guest House
Feel the real countryside!
Further data
Town: Alsópetény
Address: Béke út 10
Phone number: +36 (20) 223-3441
E-mail:
Number of sunflowers: 4
Size of dogs allowed by us:
Maximum numbers of dogs: 1
Dogs surcharge per night: 3000 HUF
The dog can go to the furniture: yes
Firework free: yes
Feeding - drinking bowl: yes
Dog bed: yes
Dog towel: no
Dog Waste disposal bags: yes
Can be purchased with dog food: no
Dog walking service: no
Dog boarding: no
Veterinarian nearby: no
Dog beach nearby: no
Chip reader: no
Alsópetény, often mentioned as Switzerland of the Cserhát, lies hidden in the hills of the South-Cserhát. The perfect venue for those seeking relaxation and leisure.
You shouldn't just pass through this little village! It is well worth a stop and getting acquainted with. From the church-hill, the village offers a spectacular sight with breathtaking sunsets and fresh crisp air. While wandering the neighbourhood you may stumble on exciting historical curiosa. Also, there are several tracks awaiting hikers and those looking for a pleasant stroll in a beautiful natural environment with the fishing -lake Cser reflecting the surrounding hills.
Be our Guest in one of our Cottage!
•Pear Tree Cottage: three twin bedrooms each with separate bathrooms at Béke street 10.
Facilities: fully equipped kitchen, driveway leading up to the car-port, fireplace, Wi-Fi internet
The Pear Tree Cottage is the revival of a shabby little village home, the first to have been renovated in the line of our cottages. The sun shines over the vintage wooden bench on the porch from early morning, yet the best place for sunbathing might be the little verandah embraced by transom-windows.
In the garden, just in line with the wooden bench, a pear tree bears its juicy, yellowish fruit.
The house welcomes its guests with three cosy, fully equipped rooms each with separate bathrooms. As it is with country homes, the kitchen is the central part of the house with a rough built stove shedding heat. The table is covered with red-white chequered tablecloth supplying plenty of space for all the self-made delicacies such as "kompéros"-soup, "náncika" and "didelle". We would be glad to provide you with the recepies!
Adress: Béke utca 10.






Images uploaded by users



Map
[View map large sizes]