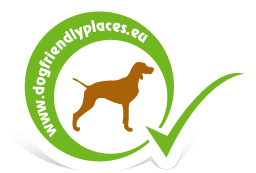 Be Dog-Friendly
Quick Search

Accommodations - Vienna Sporthotel****
Dog friendly sporthotel in Vienna!
Further data
Town: Wien
Address: Baumgasse 83
Phone number: +43-1-798 82 01
E-mail:
Size of dogs allowed by us:
Dogs surcharge per night: free
This modern hotel offers a wide variety of sporting and recreational activities. It can be reached within 5 minutes by subway from the city centre and a 2-minute-walk from the Theaterzelt, home of famous musical and various art performances. The Vienna Sporthotel welcomes guests with a solar heated outdoor pool, a Finnish block sauna, steam baths, a gym and a cardio-room, moreover 10 indoor tennis courts and a golf centre. Each room is equipped with air conditioning, a mini-bar and a flatscreen TV. The hotel's restaurant offers international and Italian cuisine.
The Schlachthausgasse subway station (U3) can be reached with a 5-minute-walk. The Vienna Sporthotel is located in a peaceful, silent area. Highway A4 and A23 are easy to approach.
The city of Vienna offers plenty of sights for visitors. We can spend a pleasent day walking in the beautiful park of the Schönbrünn Castle. Great recreational activities are a visit to the zoo, a walk in the Labyrinth and enjoying the spectacular panorama from the Gloriette after a nice climb. Lots of sights await visitors in the city centre. Taking a ride on one of Vienna's main characteristic features, the horse carriage can be a pecualiar experience, but we can visit the famous monuments and sights on foot, as well.
The National Opera House (inaugurated in 1896) belongs to the world's most significant opera houses. The Hofburg has given home to Austrian rulers since the 18th century. Its enormous area covers the south-western part of the downtown. Neue Burg is the latest built and most scenic part of it. The Sissy Museum and the National Library are also memorable buildings of the Hofburg.
The Kunsthistorisches (Art History) and Naturhistorishes (Natural History) Museums facing each other are definitely worth visiting. Reaching the Stephansplatz, the Stephansdom is a must-see. Oriented to the east, the church's main entrance called the Riesentor (Giant Gate) is one of the most beautiful monuments of the late-Roman stone-cutter art, resembling the middle-aged gates of the Church of Ják (Vas County, Hungary). Continuing our walk through the Kärntner and Mariahilfer Straße, we can admire the shop-windows of several famous boutiques and stores. Visiting the Prater, the local amusement park is a fun experience; don't miss the giant wheel, the city view from high above will leave you breathless.






Map
[View map large sizes]